Electroplating
We offer micro- and nanostructured nickel shims for prototyping. These are formed by electroplating, and are inverted copies from a patterned silicon wafer supplied either by ourselves or the customer. The replication fidelity from the silicon master is excellent. The nickel shim may be cut into any shape or size using a laser micromachining tool. An optional anti-adhesion coating may be applied.
| | |
| --- | --- |
| Wafer sizes: | 50 mm (2"), 100 mm (4") or 150 mm (6") |
| Shim size: | Any shape or size within wafer area |
| Shim thickness: | Up to 1 mm |
| Anti-adhesive coating: | Fluorinated monolayer |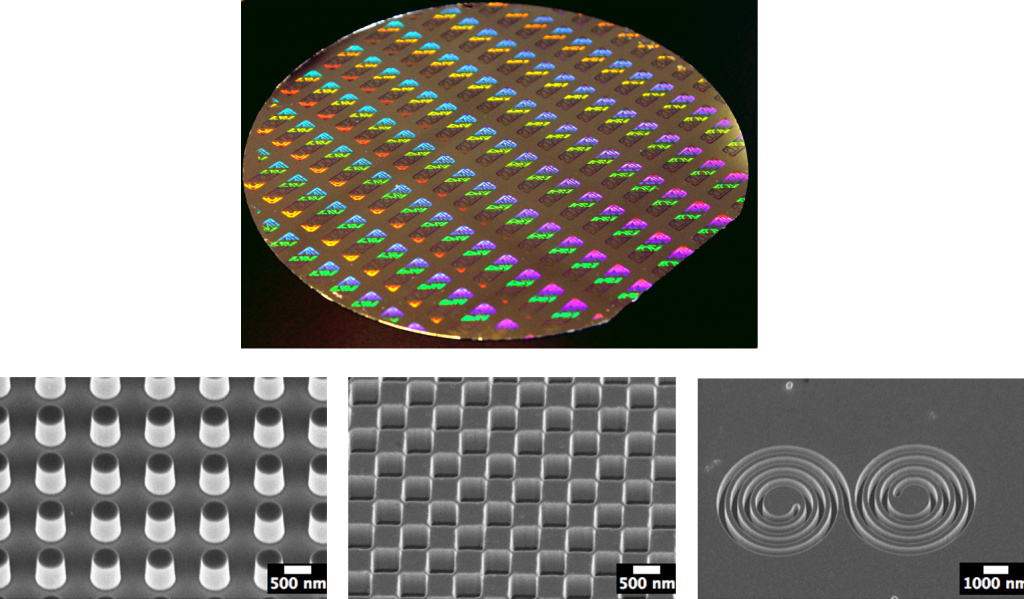 Inmold offers micro- and nanostructured polymer shims, 300-500µm in thickness and maximum size of up to 6″ wafer. The shims are generally replicated either from a structured silicon or nickel master (please send a request for other master materials). The polymer shims can also be used as inserts for injection moulding. The structured silicon or nickel master is provided by customer, ourselves or third party, depending on the customers request. Even though we do not guarantee that, the master will commonly not be destroyed during replication process and can be reused several times.
The structured polymer shims can have inverted or same polarity as the master. The polymer shims are offered as a service for prototyping and research purposes only.